Plain Bread Specialty Store Walking with the Local People of Society
We Will Provide Plain Bread to be Eaten Daily and Deliciously in Everyday Life
"Shokupando" is a plain bread specialty store featuring its own line of products different from other companies' bread chains booming with "emphasis on sweet taste" based on flour blending technology based on knowledge and experience about bread for over 30 years, flour milling technology with minimal heating, and taking in the domestic (Hokkaido, Shinshu) flour.
We have been working on bread baking for about 30 years in the instore and restaurant division of commercial facilities and Campagne bakery restaurant and hotels. It is a big feature of Shokupando that in order to not cause shortages of products as much as possible for the customers looking forward to buying plain bread every day, we have adopted the all scratch method in which we prepare bread baking from 6 AM every day from scratch.
Also, we do "slicing service" to slice the bread to the desired number in front of the customer every day. We aim to be a plain bread brand which walks with our customers of the region, so we thank you for your continuous support.
July 1, 2019 (Reiwa 1)
President and CEO Sadayuki Takahashi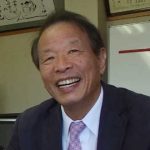 "Rice shop of Heisei and Reiwa"
As the "rice shops" in the city disappears due to lifestyle changes and changes in food culture, Shokupando will bring back the vibrancy of the city as one of the leaders of a new lifestyle and food culture. In order to become such a rice shop of Heisei and Reiwa, we will develop a meal bread specialty store that meets the needs of the times through the country. In order for the people of the region to be able to eat delicious plain bread every day, through our materials (100% domestic wheat "Yutaka"), manufacturing method (milling technology that does not apply heat as much as possible), in-store service (plain bread slicing service according to the customer's request), and affordable price range, we will do our very best not to forget our commitment and kindness to our customers.
Certain Deliciousness
Deliciousness is Trust
If sweet = deliciousness, we can simply increase sugar, or add honey and fresh cream. However, please recall "rice". When you chew, the sweetness comes out. The same can be said for plain bread. Sweetness comes out when you eat. This is the true sweet = deliciousness. Our plain bread does not use honey or fresh cream, uses minimal amount of sugar, and purses the sweetness of wheat itself.
We are committed to particular manufacturing with great material, and use carefully selected domestic wheat of Shinshu "Yumekaori" and Hokkaido "Yumechikara", and carefully selected Canadian wheat.
Everyday Plain Bread
Affordable Price Range and Slicing Service
At Shokupando, we provide plain bread to our customers at reasonable prices. We sell plain bread in "simple packaging" without using a gift bag, so that customers can freely buy delicious bread every day. (Gift boxes and gift paper bags are available for a fee upon request.)
In every day meals, slicing bread also becomes a burden. We recommend slicing at home just before serving, but we also offer a service to slice bread into the desired number of slices according to your needs. We will respond widely from 4 to 10 slices, so please do not hesitate to make requests to us.
Rice Shop of Heisei and Reiwa
Cooperation with the Region
On toasts, you put on things such as butter and margarine. On sandwiches, you add vegetables and fruits. Cheese Yutaka is excellent with wine.
With plain bread becoming a part of the everyday lives of the customers in the region, the customers become more connected with the supermarket, vegetable stores, butchers and liquor stores as well. A new lifestyle and food culture are born around the plain bread specialty store "Shokupando", and it is our great pleasure to create liveliness in your city. For this to be realized, we will open "Shokupando" branches all over the country, and we will do our best to be able to be an integral part of the community and to bring happiness to as many people as possible.
---
FRANCHISE
FC Branch Opening Information